Seachem pH Alert
Seachem pH Alert is a unique colour device designed to be placed in the aquarium or filter and monitor pH continuously. Thereupon, a sensor changes colour reversibly from yellow to orange to red alerting you to shifts in pH levels between 5.4 and 8.0. Freshwater use only.
Overview:
pH Alert lasts up to 4X as long as competing products.
pH Alert is also almost half the size of competing products. It's small, clear, and unobtrusive, so it won't detract from the view of your aquarium.
Continuously monitors pH in freshwater
No tests, no strips
Lasts up to 4 times as long as competing products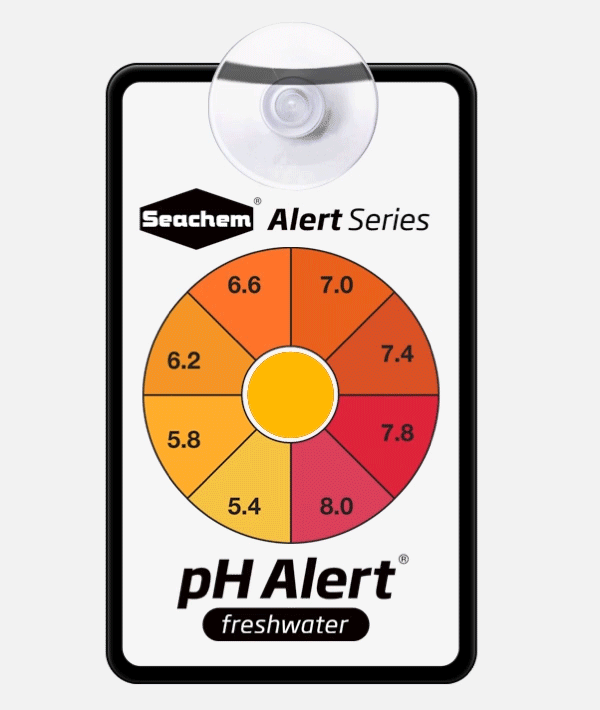 Interpretation:
Simply place Seachem pH Alert visibly anywhere in the aquarium or filter and match the sensor colour to the corresponding pH reading on the colour wheel. It's that easy. When first put in service, response time will be about 30 minutes. Thereafter, pH shifts will register within ten minutes.
Care:
Remove algae with clean, soft material. Do not use bleach, soap, detergents or hard objects to clean the sensor. Some dye medications may discolour the sensor. For maximum sensitivity, the unit should be read under natural daylight or daylight simulating light. Replace sensor when a visible fading or washing out of sensor colour shows. Once exhausted, it is time to replace pH Alert
McMerwe's Comment: Seachem PH  Alert. Simple to use. No need for sampling water or test procedures.  [Rating 5/5]
View our other Seachem products here.
*