Aquael – Reef Master 60
The AQUAEL REEF MASTER 60 set replaces the older REEFMAX version and is designed for setting up a small marine aquarium. REEF MASTER 60 is available in black or white.
Water Tank
The set includes a tank with the capacity of 102 litres. The tank is made of glass panels of proper thickness. The glass panels are glued together with special aquarium silicone. The tank has a profiled front panel and a filtration panel placed behind the background at the rear. The bottom of the tank is fitted with a special frame for additional protection. The glass that separates the skimmer chamber from the aquarium is blue in colour.
Lid
The lighting equipment is built into the lid. It consists of three 24W T5 fluorescent lamps and a high-brightness LED. The lid also includes a ventilation system and a separating glass that protects the water from overheating during the operation of lighting equipment. Additionally, the aquarium has an electronically-controlled cooling and ventilation unit located in the rear flap over the drip filter.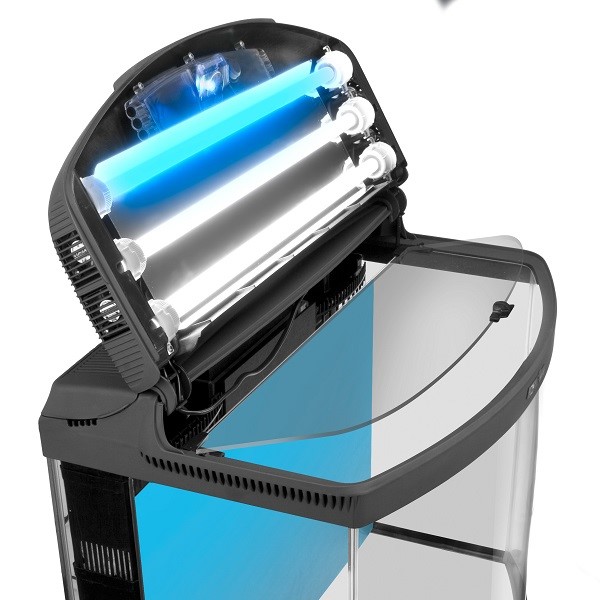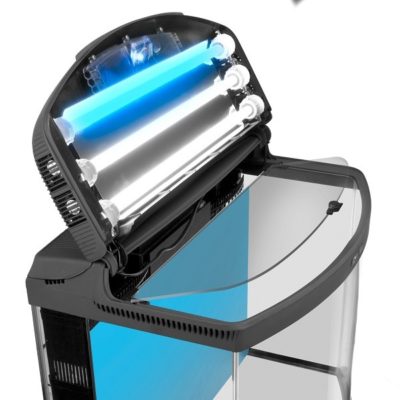 Filtration
The filtration panel comprises a bio-filter, a self-driven protein skimmer with a pump, and a set of combs with filter padding inserts to prevent air bubbles from getting into the aquarium. In order to stop fish and other animals from entering the filtration panel, the edges of the panel are fitted with special protective combs. The spacing of the teeth of the protective combs is adjustable.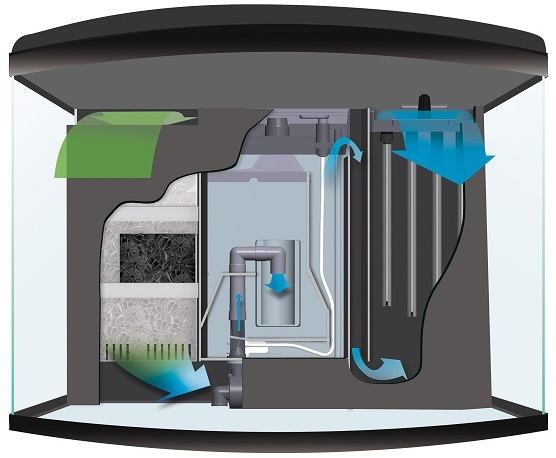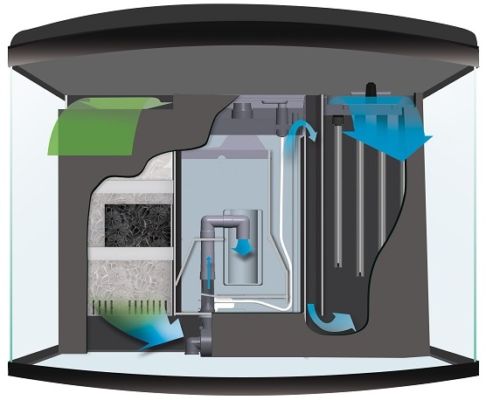 The aquarium should be placed on a firm, thoroughly leveled piece of furniture. For this purpose, it is recommended to use the dedicated REEF MASTER stand, which is not included in the set. The filter baskets, located in the first chamber of the filtration panel, are filled with bio-balls that provide biological filtration. The protein skimmer, located in the second chamber of the filtration panel, is ready to operate without any special preparations. The third chamber contains filtering combs with fleece inserts.
Programming the Aquarium
The programming unit on the top of the lid has a LED screen and three function buttons. The front lighting unit, which consists of two white fluorescent lamps, and the blue fluorescent lamp in the lid can be programmed to switch on and off automatically at specific times, independently of each other. The fan over the drip tray can be programmed to turn on and off automatically after the water temperature in the aquarium exceeds a certain level (recommended temperature is 25º C).
The Aquael Reef Master aquarium is designed with performance and ease of use in mind. It combines all the technology necessary to grow and maintain a healthy reef aquarium including corals, echinoderms, crustacea, molluscs etc and is an ideal solution for beginners or experts alike.
Aquarium overview at a glance:
ideal for setting up a nano reef
provides excellent conditions for corals, crustacea and small fish
lid with special lighting for marine aquariums (3x T5 24W fluorescent lamps and a light-emitting diode)
time controller of the lighting
protective screen protecting the water from overheating
fan system channelling excess heat
programmer of desired temperature
filtration panel concealed behind the background
efficient protein skimmer
ideal as the first marine aquarium
105 litres (including water treatment centre)
Aquael Comfort Zone 100w aquarium heater
Back chamber filtration system
2 years guarantee
| | |
| --- | --- |
| Product name | AQUAEL REEF MASTER |
| Code | 101895 |
| Size (cm) | 60x40x45 |
| Lighting (W) | 3 x 24 W |
| Night lighting | LED |
| Tank Volume (l) | 105 |
| Filtration and skimmer's efficiency | 505 l/h |
| EAN | 5905546034470 |